What can go wrong when the EIT discipline is left out of the start of an engineering project?
By Frank O. Edvardsen, Discipline Lead – Electrical, Instrumentation & Telecom (EIT), Focus Techouse Engineering AS
At the beginning of the project, there is a battle for the available space on a module. All disciplines will have most of the available space and this space is very limited. In some cases, the module must be expanded to allow all disciplines to place their equipment, and if a discipline is excluded from this work process, we may end up with a module that is not large enough for the job for which it is intended.
By not include Electro, Instrument, Telecom (EIT disciplines) at the beginning of a project, we will get poor technical EIT solutions in terms of operation and maintenance, in addition it can lead to large costs and time delays of the project.
1 No space for cable trays
It is incredibly important that the EIT discipline is included at the very beginning of the engineering process so that space is reserved for main cable ladders. We often think that cables are small and do not take up much space. The truth is that these main cable ladders are dependent on large volumes of space. It is possible to compare such cable ducts with a process pipe with a diameter of more than 1 meter. It is not easy to route such a pipe around on a narrow module if there is no room for it. If the space reservation for such trays is not made early, it will in the worst case mean that there will be no space for such equipment, and this will entail large costs and time consequences for the project in addition to a very poor EIT design.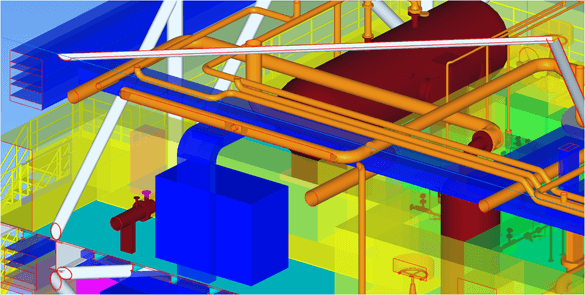 The picture shows space reservation for cable trays and EIT Rack. (Marked in blue).
2 No space for junction boxes, panels, RIO/automation rack
Just as important as reserving space for main cable trays is reserving space for junction boxes and EIT panels (EIT Rack). When such reservations are made, it is with a view to operation and maintenance and where it is possible to fit the equipment. It is desirable to assemble such equipment in the most central locations on a module so that it is possible to save cable lengths as well as to make the simplest and best possible for operation and maintenance personnel. Such an EIT rack can quickly become 5m long, 2.5m high and 1.2m wide so large volumes of space are needed. It is also important to note that there are usually many junction boxes / EIT racks on a module, not just one rack.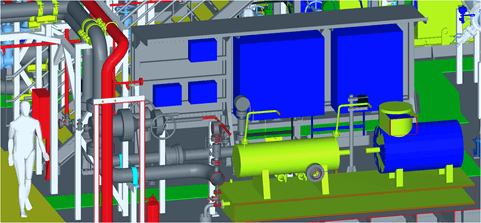 EIT panel next to a person – shows how big it can be.
3 No space for instruments, light fixtures
In many cases, lights are mounted in the hand railing of the module in addition to various types of small junction boxes and manual safety detectors. It is very easy to forget to make room for these and then the escape routes are laid all the way into the hand railing, and we get a space problem for this equipment located in the hand railing.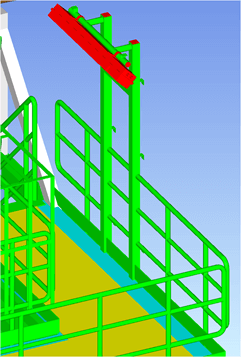 Typical light fixture.
Do you have questions about this article? Please send and email to the author!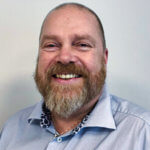 Frank O. Edvardsen
Electrical, Instrumentation & Telecom (EIT), Focus Techouse Engineering AS
fed@TechouseEng.no
Also read:
The dynamics of Electro Instrument & Telecom (EIT) in an engineering project
Why it is important for Electro Instrument & Telecom (EIT) engineers to be involved from the very beginning of an engineering project?
What can go wrong if the Electro Instrument & Telecom discipline is left out from project-start?